FORMATH Research Group
---
The FORMATH research group is voluntarily established in March, 2001
among those who have an interest in forest resource management and mathematical modeling.
Forest Resources & Mathematical Modeling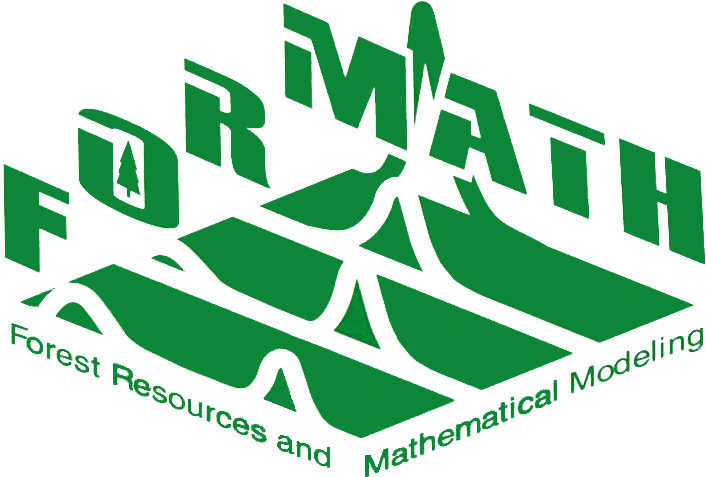 FORMATH related Information

FORMATH International Symposium -FORMATH HIROSHIMA 2017- will be held on March 16-17, 2017 in Prefectural University of Hiroshima, Hiroshima, Japan.
Online Registration is now available! click here.



Training on Advanced Statistical Analysis in "R" for Forest Resource Management- will be held on December 13-14, 2016 at Forest Inventory and Planning Institute, Ha Noi, Viet Nam.



FORMATH Series Symposium (archives) (jump to Symposium)

FORMATH SHIGA 2016 March 16 - 17, 2016

FORMATH ROPPONGI 2015 March 7-8, 2015

FORMATH AKITA 2014 March 8-9, 2014

FORMATH FUKUSHIMA 2013 March 13-15, 2013

FORMATH RYUKYUS 2012 March 17 - 19, 2012

FORMATH SAPPORO 2011 March 20 - 21, 2011

FORMATH TACHIKAWA 2010 March 13 - 14, 2010

FORMATH TOKYO 2009 March 14 - 15, 2009

FORMATH TOHOKU 2008 March 8 - 9, 2008

FORMATH KOBE 2007 March 17 - 18, 2007

FORMATH KYUSHU 2006 March 18 - 19, 2006

FORMATH KYOTO 2005 March 12 - 13, 2005

FORMATH NAGOYA 2004 March 13 -14, 2004

FORMATH TSUKUBA 2003 March 8 - 9, 2003

FORMATH TOKYO 2002 March 9 - 10, 2002

FORMATH NAGOYA 2001 March 17 - 18, 2001



FORMATH Publication (jump to Journal)

FORMATH Volume 1. (Yoshimoto et al. eds.) ISBN:4-915870-21-9

FORMATH Volume 2. (Hiroshima & Minowa eds) ISBN:4-915870-24-3

FORMATH Volume 3. (Kanomata & Yoshimoto eds) ISBN:4-915870-27-8

FORMATH Volume 4. (Kondoh et al. eds) ISBN:4-915870-31-6

FORMATH Volume 5. (Yoshimoto et al. eds) ISBN:4-915870-34-0

FORMATH Volume 6. (Yoshimoto et al. eds) ISBN: 978-4-915870-35-4

FORMATH Volume 7. (Sasaki & Yoshimoto eds) ISBN: 978-4-915870-36-1

FORMATH Volume 8. (FORMATH Research Group) ISBN: 978-4-915870-38-5

FORMATH Volume 9. (FORMATH Research Group) ISBN: 978-4-915870-39-2

FORMATH Volume 10. (FORMATH Research Group) ISBN: 978-4-915870-40-8

FORMATH Volume 11. (Konoshima & Yoshimoto eds) ISBN: 978-4-915870-41-5

FORMATH Volume 12. (FORMATH Research Group) ISBN: 978-4-915870-43-9

FORMATH Volume 13. (FORMATH Research Group)

FORMATH Volume 14. (FORMATH Research Group)

FORMATH Volume 15. (FORMATH Research Group)


Products (jump to Products)

FastrakDigitizer v1.0

RouteOptim

Visualizing optimal solutions via web application

Growth Model 1.00.12 (Inada)

SDMD growth simulator (Japanese & English)

SDMD growth simulator (English only)